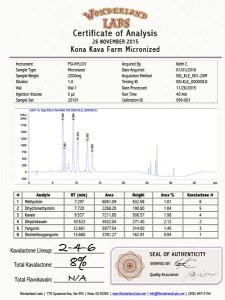 We love wholesaling Kava and we love our growing list of customers such as Kava Bars, Yoga Centers, and Cafès.  Every Kava product we offer comes with a Certificate of Analysis and has been manufactured to beyond cGMP standards set by the FDA.  We specialize in Noble Kava from Fiji, Tonga, Vanuatu, and Hawaii. We hand-select the finest grades with the strongest Kavalactone content. We also look for the "happy" Kavalactone lineups, which are typically a 4-2-6 or a 2-4-6 lineup.
Also, there seems to be a growing number of Kava sellers who say this, but we truly do manufacture our Kava in an FDA-compliant facility. This facility was built from the ground up to surpass the strict GMP (Good Manufacturing Practices) standards in 2018. We not only pride ourselves on offering the best Kava on the market, we are constantly rotating our stock, so your Kava comes to you farm-fresh.
We also offer personalized service and have over 20 years online experience (look us up to verify – especially Kona Kava Farm dot com). We are passionate about what we do. Our facility is even inclusive of all races and genders – we don't judge! With a staff of employees passionate about Kava, our decades of experience, and our desire to make you happy, we want to be your wholesale source of all-things kava.
Look to our FAQ on "Do You Wholesale Kava?" To find out all the details. We've got generous minimums and reward customers who buy regularly.  We also cater to Kava Bars and Kava Cafe's by offering convenient "Bar Packs" as seen below. Why not get started today, by asking for a free sample of the best Kava we have in stock?  Once you receive it, we know you'll want to get your account set up, which comes with a personal Kava Account Manager.  Best of all, is that even wholesale purchases qualify for our Kava Loyalty Points program, earning you free Kava just for being a loyal customer.