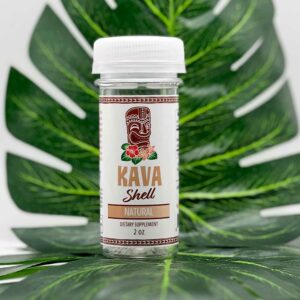 The Ultimate Kava Drink
It's been on our "idea board" for years. We've spent a lot of (fun) time formulating, taste-testing, and crafting what we envisioned for a proper maximum punch Kava drink.
The result is arriving soon; our 2 ounce Kava Shell!
This ultra-simple drink is made from just a few ingredients. Most mass manufactured products have long lists of ingredients and preservatives and stuff that's bad for a body. Out of all the Kava drinks we've found currently on the market, ours is the only one that has nothing artificial, no corn syrup, no "guar gum", or "artificial flavoring" or preservatives. We can proudly call our Kava Shells "all natural".
Our entire list of ingredients is a few words long: Full Spectrum Kava Extract Oil, spring water, vegetable glycerin, organic vanilla extract, and organic rice extract. – That's it!
Yes, we know that without any preservatives, we have to make all our drinks in an extremely clean GMP facility. And yes, we know that without preservatives, that we have to make these more often than we would have to otherwise. Well, both of those requirements have their boxes very checked as we love hand-crafting these drinks in small batches in a GMP facility that is setup specifically for unique needs of Kava products.
The Formulation Process
We've managed to pack the maximum amount of Kavalactones into this 2 ounce Kava drink. The FDA allows up to 290mg of Kavalactone per day. Our drink has exactly 290mg of Kava. It's your choice to use the 1 ounce servings twice a day, or to give yourself maximum kick by drinking the entire bottle at once.
This proprietary blend and recipe is a marvel of science. Most don't think much about how raw ingredients become finished products. Little did we know that the ORDER that ingredients are added to the recipe can yield COMPLETELY DIFFERENT RESULTS.
After so many failed formulations, I decided to simply start blending ingredients one at a time, while recording the results. What I finally landed on was something that I learned as a child while watching my mom make dough for her famous (at least in our family) Apple Pie. When she was rolling the dough, she would slowly add flour to the dough, slowly blending it in. I asked why she didn't just add the flour all at once at the beginning.
That's when she told me that to get the smoothest dough, she needed to blend the flour in slowly, over time. That way, the flour would evenly coat as much of the dough as possible, making the dough smooth, flaky, and delicious when it was baked.
With that vision in my head, I decided to start with the Full Spectrum Kavalactone Oil and just our rice extract. The rice extract is a powder that looks a lot like flour. I rolled out the Kavalactone oil (yes, the raw material we craft ourselves starts off with the consistency of pie dough), and then slowly added the rice material. I then blended that in slowly, folded the "dough", and then repeated the process.
Little did I know that one inspiration would unlock the key to amazingly smooth Kava drinks that would eventually become our 2 ounce Kava Shells!
Why Kava Shells?
Why Some have asked us why we called our Kava Shot a "Kava Shell" instead. To us, that was a no-brainer. Kava, when consumed traditionally, is typically enjoyed from coconut shells that are cut in half. Kava drinks became known as "kava shells" because one Kava drink would fit perfectly into half of a coconut shell.
Since we pack an entire 2 drinks into our Kava Shell 2 ounce Kava drink, it seemed like a perfect way to honor a 3,000 year old tradition.
Customer Submitted Recipes – Yes Please!
If you have any preparations you like, please share them here. We love adding recipes that customers send into us. If we post your original recipe, you will also get a $20.00 gift voucher for anything you want in our Kava Marketplace, as well as credit for your recipe and a link to anywhere you wish.
On our original website at KonaKavaFarm, we offer a few favorites; Favorite Kava Recipes.
And, we expand that list here on the Kava Marketplace; More Kava Drink Recipes.
---
Based on a Traditional Kava Drink
* In a large bowl, mix together 4 cups of water and 1 cup of ground kava root.
* Let the mixture sit for about 10-15 minutes to allow the kava to release its active compounds.
* For a stronger drink, please the mixture into a blender for 5 minutes, any setting.
* Strain the liquid into a separate container using, cheesecloth, muslin or strainer.
* Serve the kava drink in a coconut cup and enjoy!
---
NOTE: Kava should not be consumed in excessive amounts, and it should not be consumed by people under 18 or pregnant women. Some people may experience mild side effects such as dizziness or drowsiness after consuming kava.