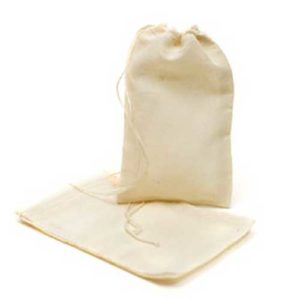 These high quality, reusable infusers make for perfect Muslin Kava Straining Bags. They're not just for Kava either; they're perfect for making all kinds of herbal infusions (such as teas) as well. This Kava Straining Bag has drawstrings at the top and are the perfect size for dropping into a cup or teapot. We offer them in two sizes, although for any Kava-related tasks, we prefer the larger version.
Why do you need a Muslin Kava Straining Bag instead of a coffee filter or something else?
When making a Kava drink, the root usually needs to be "massaged" to get all of the active kavalactones out and into your drink. These are perfect for that purpose. The "mesh" of the muslin works really well with massaging your Kava. It's fine enough so it doesn't clog up when working with your extraction. And, if you don't really want to spend the extra effort massaging your Kava, they're free-flowing enough to allow the Kava liquid to go through the bag and into your cup. They will need a squeeze to coax all the liquid out from the roots (Kava is like a sponge! – We have to keep it in very controlled humidity here at Kava.com), but that's part of the fun.
Coffee filters aren't strong enough. Cheesecloth tends to be too loose of a mesh. Muslin bags just happen to be the perfect addition to helping make your Kava extractions as mess-free as possible. Speaking of, how difficult is it to clean your lovely little muslin helper?
When it comes to washing your Muslin Kava Straining Bag, it's easier than you think: Just turn the bag inside out, and run a burst of cold water over it for 20-30 seconds or so. You will notice that after continued uses, the muslin will change color. That is perfectly fine! – Just as a chef likes when his posts become seasoned, so will your muslin bag. The rich, darker color that it takes on lets you know you've been enjoying your Kava drinks, and hopefully sharing them as well! If you're having a Kava party, we can provide larger strainer bags; just let us know and we'll get one to you for free with your order. Just make sure it dries completely, and you're ready for use after use after use.
As mentioned above, tThese muslin bags are fine enough to make tea with as well, which is why we offer the smaller size. If it were up to me, I'd simply get a giant one to cover all my needs, but the 8″ x10″ is quite a perfect size. Speaking of, the Medium size Muslin Herbal Infuser is 5″ x 7″. The Large size Muslin Herbal Infuser is 8″ x 10″.