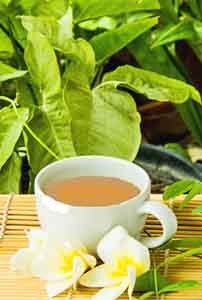 Any experienced kava connoisseur knows that the term kava drink can refer to a number of different things. The first, of course, is the traditional kava drink that's been brewed up in the South Pacific for millennia and consumed at social and ceremonial occasions. Traditional kava brews are prepared by macerating the fresh or dried kava root in cold water for 45 minutes to several hours, depending on the culture and the occasion for which the kava is being prepared. While kava roots were once chewed before steeping—a practice that horrified James Cook on his voyage to the South Pacific—today the preferred method is to combine kava and water in a blender and extract the resulting kava drink through cheesecloth into a communal serving bowl.
On the world stage, the kava drink has expanded its meaning as new markets and new technologies have made it possible to create clean, strong kava root extracts. Trendy products like Lava Cola, which contains kava extract combined with cola flavors to make it more palatable to newcomers, have introduced the concept of the "anti-energy" drink. Most people turn to kava drinks to unwind, relax and let go the stresses of the day. However, with the exploding popularity of instant forms of kava, it's important to know what to look for to ensure that your instant kava drink is tasty, effective and results in a satisfying experience.
First of all, any instant kava drink worthy of the name should contain a standardized extract of kavalactones, usually in the form of a powdered extract. Your instant drink should dissolve completely in water. We can't tell how many times we ordered an "instant" kava drink only to discover that it contained plain powdered root mixed with flavoring ingredients. Such a product will not dissolve smoothly in water and is likely to be quite ineffective—not to mention unpleasant to drink! Unlike a traditional kava drink, which may need to have a vegetable fat such as soy lethicin added to complete the extraction of kavalactones, a true instant kava drink such as our Instant Kava Drink Mixes has been pre-extracted, enabling you to skip this step and still wind up with a strong, effective drink in minutes.
The other great thing about our kava drinks will be obvious to anyone who has experienced the, shall we say, unique flavor of kava: with palatable flavors such as cocoa, banana, and chai spice, our kava drink options encourage the newcomer to experience the effects of kava without the taste. Easier and quicker to prepare than a traditional kava brew and stronger than a kava pill, instant kava drinks represent a flexible middle ground in the range of products you can try at Kava Dot Com. So what are you waiting for? Try our Instant Kava Drinks and let us know what you think!