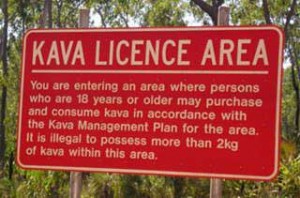 It's sometimes difficult to believe what some people spend their time doing, and often when it comes to law enforcement. I know they're just doing their jobs, but the Australian Federal Police officers routinely patrol Darwin Airport In Australia, with drug sniffing dogs who are on the lookout for — wait for it — Kava root. Let's take a look at Kava legal status in Australia via a local article.
Now, Kava isn't exactly illegal in Northern Territory, it's just illegal to possess a "commercial amount" of Kava. This is because of a 1997 law that made the possession and selling of kava without a license illegal in the Northern Territory of Australia. So, just like the debate over "porn or art" in the United States, a judge gets to arbitrarily decide what constitutes a "commercial" amount of Kava when a case comes before him.
What's shocking, though, is that possessing a commercial quantity of kava or selling a commercial quantity of kava, under the Kava Management Act NT, carries a maximum sentence of 8 years in prison! Perhaps, Australia is just extra strict with their doling out of sentences, so I took a look at what other sentences actual dangerous crimes carried. Among many other examples? – The sentence for Aggravated Armed Robbery, where humans can actually be hurt, carries a sentence of 4 only years. So, possessing a "commercial" amount of Kava carries a maximum sentence that's double of someone who can use a deadly weapon when committing a crime, including using physical and harmful force to steal from the victim.
This is highly speculative, but from my extensive research and experience, what's the biggest concern with Kava? According to a news release by the AFP; "Kava comes from the root of the pepper plant and acts a sedative and depending on the strength, can have a psychoactive effect." What else could explain the draconian laws regarding a natural herbal supplement that has been used safely for 3,000 years? More people have died from drinking Red Bull in the past few years than anyone in the entire history of Kava drinking.
Kava Seizures
In October of 2013, the AFP seized nearly 90kg of Kava root. This is a root that is legal everywhere in the world, except for a rare holdout or two, including Australia. It all began when Federal Police Officers saw a truck blocking lanes on an access road. The 33-year-old driver was questioned, and it's alleged he was driving with a suspended license, which gave the police all they needed to impound this fellow's vehicle. A subsequent search of the truck netted quite a score of illegal drugs for the police. His truck contained a large number of bags carrying the all-natural, exceptionally safe, anxiety reducing, used for 3,000 years without a single death, often used as an alternative to alcohol Kava root.
Kava legal status in Australia is as it is – it's treated like any other drug, and is reported in "street value" when a seizure is made. And, the estimated street value of that 90kg of Kava was said to be more than $89,000. This "massive" haul of the safe-for-children, all natural root was one of the largest ever seizures of kava in the Northern Territory. Whew. I can ret far more comfortably at night knowing that 90kg of Kava root has been taken off our streets, while kilos of actual drugs were likely smuggled through the airport while this Kava bust was taking place.
The man? Well, he was taken into custody and charged with driving a vehicle while unlicensed, possessing a commercial quantity of kava and supply a commercial quantity of kava under the Kava Management Act NT, and is facing up to 8 years in prison for the Kava possession alone. This is shocking to me considering that the sentence for Aggravated Armed Robbery, where humans can actually be hurt, carries a sentence of 4 only years.
Federal Police Officers were boasting that this was the third large seizure of kava that year in the Northern Territory. And, with such a large seizure of Kava, the AFP reportedly has high hopes that this seizure would disrupt the illegal trade of kava within their Territory. That same year, over 2000 kilos of illicit and illegal drugs were found, drugs ranging from cocaine, meth, and other real and dangerous drugs that do real harm to real people.
More recently, Federal Police Officers made another incredible haul; in June of 2015, a 24-year-old man named Leo Murphy was found to be in possession of 33kilos of Kava at the Darwin airport. The Kava was discovered by two drug sniffing dogs in the Murphy's luggage, who had just gotten of a flight from Sydney, Australia. The luggage was a sports bag left unclaimed on the baggage belt.
The Detective in charge of the arrest; Detective Senior Sergeant Clint Sims said that routine inspections of passengers and luggage turned up a positive reading at about midnight. He said; "Drug Detector Dog April provided a positive response to the man's luggage and Police seized 23 kilograms of kava. He was arrested and charged with possession of a trafficable quantity of kava."
And, as the police like to report; the Kava had an alleged street value of $32,000. I'm not a mathematician, but $32,000.00 divided by 23 kilos equals approximately $1,391.00 per kilo. I'm not sure I can believe that. I'm not sure how much illicit and dangerous drugs cost, but we sell Kava for $50.00/kg. Perhaps we're in the wrong business.
Either way, Murphy's defense attorney (Grainne Marsden) told the court that her ­client was simply sharing his 23 kilos of Kava with his family. She said her client was a long time drinker of kava and used it as a replacement for alcohol. "His wife said the kava just makes him talk a lot rather than get angry," unlike alcohol, which has a long history of violence and deaths associated with it.
But, the Magistrate (Greg Cavanagh) found issue with that line of defense. Accoridng to him, the case was "lacking in a complete picture of honesty and truth." He said that he found it impossible to believe that such as "huge" quantity of Kava root was only to be shared with family members.
As a result, Murphy pleaded guilty to the charge of possession a commercial quantity of Kava, which carries a logic-defying penalty of up to 8 years in prison. Sentencing is supposed to be on the 14th of April 2016, and we will report what the penalty ends up being for this dangerous drug trafficker. When it comes to Kava legal status in Australia, it sometimes feels that priorities are not always what they should be when it comes to maintaining law and order.
FURTHER READING: