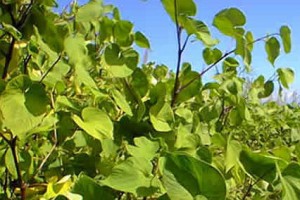 Of all the topics here on Kava.com, somehow we never included an article on Kava Root. How that's possible, I may never know, but the purpose of this article is to fill that gap. The topic of Kava Root is such a wide-open topic name, though, so it took a little quiet contemplation by a cup of Kava to decide what to write about. I thought that writing about the different kinds of kava root there are, on a "Big Picture" view might be the best approach.
First, when people refer to Kava Root, they're referring to the only edible part of the Kava plant. Stems and leaves are poisonous, and may be what was responsible in the now infamous study in the early 2000's that began the false hype regarding Kava causing liver damage. And, within the roots themselves, there are two main types of rootstock; lateral and underground roots.
Both are exactly as they sound they might be; Kava plants, after they take their initial 3 years to mature, grow a large number of roots, or root runners, along the surface of the ground. These lateral roots can get quite large, and for some reason, typically contain the most potent kava kava. So, Kava Root that's made with all "lateral" root is typically more potent, and often of higher quality than the underground roots. This isn't always the case, but it is a good rule of thumb to follow when researching Kava Root on your own.
Underground roots are just as the term seems; kava roots that grow underground. These roots take much more effort to harvest, and some of the plant itself must be destroyed in order to harvest the underground roots. But, underground roots are much more abundant, and for that reason as well, are typically less expensive than kava kava that's harvested from lateral roots.
Most commercially available Kava, though, is a blend of lateral and underground roots. This is what gives you the typical kavalactone content of 3%-4% in ground Kava root products. Pure powdered kava made from lateral roots only will typically have a kavalactone percentage of 7%-10%. Only a few online retailers such as our Hawaiian 8oz Kava Root, Hawaiian 16oz Kava Root, or the Vanuatu Kava from Root of Happiness have this high of a kavalactone content.
Beyond that, there is a growing number of kava "cultivars" that can be purchased. Some of the major ones are Hawaiian, Fijian, and Vanuatu. We think an article over on BuyKavaDirect had the best snippet regarding this topic:
We think that Hawaiian kava is the best out there, and we even have a little bit of science to back up our claim! There are six key kavalactones in kava that produce the pleasant effects that we feel when we work with kava. According to Alden Botanica, which offers High Performance Liquid Chromatography of the kavalactones in various types of kava, the kava Fiji grows has the lowest percentage of kavalactones kavain and dihydrokavain, while Hawaii and Vanuatu kava have the highest percentages. This is very important because these two kavalactones are essential to the anti-anxiety action of kava. Therefore, if you are looking for a more potent kava, it's best to go with Hawaii or Vanuatu kava rather than Fiji kava.
That explains it rather simply, and it's also the exact reason we're so proud of the Kava Root we offer here on Kava.com: We carefully chose the one variety we offer in our Kava Marketplace. We chose a supplier who would sell us Kava ground from only lateral roots, and we were only willing to accept a very specific kavalactone profile. That profile needed to have a high concentration of a lactone called "kavain", which is believed to be most responsible for the pleasurable as well as the anti-anxiety effects of kava root, and far less of the undesirable kavalactone types that offset and cancel out the pleasurable effects of kava.
It is indeed nature's own safety valve to prevent us humans from getting too deeply connected to Kava, but thousands of years of selective cultivation from humans has created some incredibly powerful Kava root chemotypes. That's why we firmly believe that all it takes is just one try of our Powdered Hawaiian Kava Root to have you hooked for life. Once you get a taste of the effects of a kind of kava that has such tangibly pleasant effects, you won't want to try any other.
Our Customer Base is steadily growing, and steadily loyal. We are so pleased that as time goes on, that more and more customers return time and time again for the same Kava; our own brand in the Kava Marketplace.
That's it for now; I hope you found this article interesting enough to stay until the end. Please feel free to add any comments below regarding your experiences with kava root, especially if it's a specific type that you have found to be extraordinarily pleasurable.
– Kava Dot Com