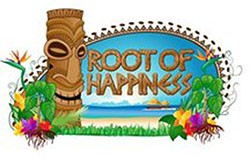 Just when we think we couldn't be more proud of the Kava products featured on the Kava.com Kava Marketplace, along comes a Kava manufacturer that redefines the Kava experience for us. That manufacturer is "Root of Happiness"; an aptly-named company that offers only the most premium Kava powders and tincture that you can find.
The owners of Roots of Happiness also own a Kava Bar in Rancho Cordova, CA. (Yes, they're the Root of Happiness Kava Bar on Facebook.) They offer a personalized experience with only the cream of the crop, Premium Kava that may just re-define what you thought the Kava experience might be like. The two owners are not only deeply passionate about this amazing plant, they source it, manufacture it, package it, and offer it for sale themselves in a pristine, FDA-compliant facility right in Sacramento, CA.
Their obsession is our gain as this is one of the 3 types of Powdered Kava Root they offer, all with their own unique properties. They offer the Premium Fijian Ground Kava Root, Premium Vanuatu Ground Kava Root, and Solomon Islands Premium Ground Kava Root. They also have a Kava Tincture that literally knocked our socks off (O.K., not literally).
In all seriousness, though, there is something almost magical about the Root of Happiness Kava. We're not sure if it's the passion that goes into every package or their passion for Kava in general, if it's the attention to detail in every step of the sourcing and manufacturing process, or just the sheer artistry of Tyler and Travis. It's easy to tell that their entire product line is a labor of love, and that radiates through every one of their wonderful products.
We found the Fijian Kava variety to be somewhat smoother, slightly less excitable sensation than the Vanuatu and Solomon Island varieties that Root of Happiness also offers here. But the punch that both the Solomon Islands and the Premium Vanuatu varieties deliver will leave you wanting more. All three of their Premium Powdered Kava varieties offer a very pleasant repose that lasts longer than one might be used to in relation to Kava, so please, use responsibly.
Choosing a Root of Happiness variety of Kava really has everything to do with with what you want to get out of our experience. Choose your favorite from the list below, then kick back and enjoy when your package ships same day.
As we say in the product description for the Root of Happiness Kava Tincture, of all the products we carry from all the manufacturers, we are perhaps most proud to carry this wonderful Kava Tincture and Ground Kava Root. We've tried countless Kava products, from gum to candy to extracts to tinctures, and along with the outstanding Kavalactone Paste from Kona Kava Farm, the Root of Happiness products stand out amongst the crowd.
Mahalo,
Bryan & Team Kava