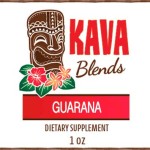 We couldn't be more thrilled with the arrival of the latest (and perhaps greatest) Kava products we've seen in a very long time. Happy Kava Brand has hit it out of the park with their new Happy Kava Brand "Custom Kava Blends". As of this writing, they come in a Customizable Tincture, but Happy Kava plans to expand their offerings to an entire line of Instant Kava Drinks, as well as Kavalactone Pastes and plain old Kava root powder. For now, let's take a look at this stunning new line of Happy Kava Blend Tinctures!
First, the care taken in these blends is evident in the detailed description of each product. From their flagship "Kava Ginger Blend" to the dream-inducing "Kava Wild Lettuce Blend" to the super energized relaxation of the "Kava Guarana Blend", there is an effect for all tastes. Speaking of, I know this will sound like a sales pitch, but it's only because this stuff really works as advertised. Happy Kava Brand is doing something never seen before:
Happy Kava offers Customizable Kava Blends by Effect!
Now, the guesswork is taken out, and you can shop for your favorite Kava and desired corresponding effect with ease. Anyone who knows anything about Kava knows how powerful it is as a stress reliever as well as a natural anti-anxiety remedy. Not many herbal products can make that claim. But Kava.com has carefully studied over 100 reports on the effects of Kava, including 23 trials directly intended to measure Kava's effectiveness as an anxiety remedy. The results were nothing short of astounding.
Those who are familiar with Kava also know that it's not called the "anti-shyness" herb and the "plant of peace" for no reason either. Kava gently lowers inhibitions, opens creative pathways, and makes the world a much more pleasant place than it already is for a while. It's no surprise that the people of Oceania, and especially Hawaii, are known for their sunny dispositions, loving nature, and huge smiles.
With such a positive base to work from, Happy Kava Brand set out to find the best possible blends for Kava with just one other herb. Starting with over 100 herbs, Happy Kava Brand narrowed the list down to just 24 finalists. From there, after numerous opinions gathered from friends, family, and a few select treasured customers, the list was narrowed to just 12 herbs. Check out the module below for a quick rundown of what effects are paired with which herbal blends:
So, if you're looking for a little pick me up, simply enter "Energizing" into the Effects dropdown, and compatible Custom Kava Blends will appear. This is true for all of the major "Effect" categories that Happy Kava Brand has distilled and blended to maximize all that Kava has to offer, including the respective herb that has been expertly blended in to each one. The complete list of available effects include:
Anxiety Relief – This is one of the most powerful aspects of Kava as a natural herbal remedy. Clinical study after clinical study has shown the power Kava has for helping fight this growing issue throughout the world.
Aphrodisiac – This is one of the lesser talked about aspects of Kava's power. But, more than a cursory look at the literature and folklore surrounding Kava, and it is revealed to be a powerful aphrodisiac, partly because of it's ability to help calm nerves and lower inhibitions. Kava is known as the "anti-shyness" herb because of how effective it is at doing just that.
Clarity/Memory – This is another aspect of Kava that isn't often addressed. But, with an ability to quiet a noisy mind, as almost a side-effect, Kava has an uncanny ability to clarify the mind, and to them help us to increase our power of recall and memory. Blended with just the right herbs, this Kava Blend becomes a great mind-clarifying supplement.
Creative Space – Similar to above, almost a side effect of Kava is opening up creative spaces by calming stressed-out minds. When Kava is then blended with herbs specfically known for helping to open creative centers in the mind, it's a match made in heaven.
Energy Boost – Almost a contradiction in terms; Kava is a powerful relaxer. What happens when combined with the world's most popular stimulant; caffeine? Something very interesting to say the least. One of our employees is hooked on Red Bull, so he was the perfect test subject. This is what he said about the Guarana Kava Blend Tincture; "I feel energized but not jittery! I almost feel relaxed and energized at the same time — this feels great!"
Insomnia Relief – Kava is well-known for helping to calm a mind and relax a body enough to help with sleeplessness. Combined with another herb such as Valerian Root, famous for its clinically-proven ability to help support restful sleep, this is another match made in heaven.
Meditation – Quiet moments and mindfulness are growing in popularity at an astonishing rate. Although Kava isn't typically known as a meditation tool, Kahunas did use Kava as a way of connecting with the spirit world. This was accomplished by helping to calm the mind, allowing it to expand into other levels of consciousness. Happy Kava Brand has taken that power and combined it with herbs that are well-known meditation tools, for a unique blend that may surprise you.
Relaxation – Well this description really writes itself. With the King of relaxation (Kava) is combined with other choice herbs that are famous for helping a person relax, the choice of Kava Blend becomes quite simple.
Stress Relief – We include stress relief as a separate category than anxiety relief just to be sure we cover all the bases. People who have anxiety are almost always stressed, but many people who are stressed don't have anxiety. We think of stress as more of a day to day issue, where anxiety is longer term and requires far more intense attention and treatment.
Herb Blend Choices:
Happy Kava Brand Tincture Blends have been nearly 2 years in the making, but already they've become a Top Seller here at Kava.com. Try out one or two or three today for special discounts. And, if you have any questions about any of our Kava Blends, just click on each individual blend description to find a richly referenced product description based in science and facts instead of folklore.
All tinctures come in 1 ounce bottles and utilize natural plant extracts, extracted without any harsh chemicals. All herbs are either in a 4:1 concentration (like ginger) or a 20:1 concentration (for blends such as Kanna), depending on the power of the individual herb. All tinctures need a quick shake before imbibing, just like some of the best fresh-pressed juices on the market. Always a smooth liquid rather than blobs of oil, we take just as much pride in the presentation of these liquid extracts, as we take in the ingredients. And the flavors are carefully balanced to help mask the sometimes unpleasant taste of Kava, without being overly sweet or invasive.
All Happy Kava Brand Kava Tinctures come with our usual 100% Satisfaction Guarantee, so you can try any of them completely risk free.
Mahalo,
Team Kava