Are You a Kava Bar? A Distributor? A Café?
If you're looking to buy wholesale Kava, look no further than the experts here at Kava.com!  With nearly 20 years of wholesale experience, we're your one stop shop for all your Kava needs. We cater to Kava Bars (add your listing HERE), but service a wide range of companies, café's, distributors, and retail stores.  Personalized service with a highly-skilled account manager are just two of the things you can expect from us.
For Kava Bars, we offer a wide variety of products, with our without retail labels.  Our Single Serving packs make it a snap to serve a potent  Kava drink without any of the mess.  Visit our Wholesale Kava section to see some of what we have to offer.  We also offer bulk Kava packaged or unpackaged at discount pricing.
We can also provide any retailer with privately-labeled products and customized labels provided by you (and vetted by us for full compliance), so you can sell branded products with your own brand on it at your place of business. If you wish, we also have a super-creative in house graphics staff to create FDA-complaint labeling for you as well.
For Retailers, we also offer UPC codes on all of our products.  You also have access to wholesale pricing for Happy Kava Brand, Kona Kava Farm, or our own internal KavaDotCom brand.  We don't wholesale Any other brands here at this time.
For Distributors, we are experts at anticipating your needs.  We always have more than an ample supply of freshly-rotated Kava in stock, and are able to seamlessly scale up or scale down according to your dynamic needs.  We expect the unexpected, and can handle any distribution issues that arise with ease.  We can supply large amounts of fresh Kava roots as well; no order is too large for us.
Check everyone else first, then come back to buy wholesale Kava from the experts who have over 20 years of experience.  We love our wholesale customers, and work hard to make sure you get everything you need, on time, of the highest quality, and at an extremely reasonable price.
Speaking of quality, 100% of the products we offer through our wholesale program come with fully-complaint, lab-tested Kava at Wonderland Labs.  We are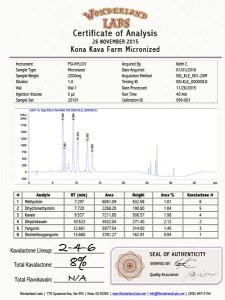 proud to be direct importers of Kava from various places throughout Oceania, whether it's Fiji, Samoa, Hawaii, or Vanuatu.  This not only allows us to beat anyone else's pricing, you know that our stocks and harvests are rotated on a regular basis.
Custom Branding!
Do you want to see your own GMP product at your cafe, bar, or retail store?  We can make that happen for you!  Our speciality is manufacturing and wholesaling Kava Kava, and one of our favorite things to do is custom brand (also called private label) your Kava product.  Why buy bulk Kava from us when you can get prepackaged Kava products that are fully FDA-compliant?  We have Kava from Hawaii, Fiji, Vanuatu, and the Solomon Islands.  We offer mostly Vanuatu Noble Kava root for wholesale or private label.  Give us a call to see if this is a good fit for you, and get quotes as well.
How Do I Get Started?
We have modest minimums.  Initial wholesale discounts start at 20% off retail pricing that you see on our website, with increased discounts up to 35% as your volume and re-order frequency continues.  We want to see you succeed and we want to keep you as a loyal customer for years to come, so let us know what makes the most sense for your bottom line and we can work towards that goal.
Again, you can simply give us a call today and ask for the Wholesale Department if you want to speak directly with an account manager.  Or, if you want to email first, simply send the above requested info off to our Wholesale Kava Accounts email, and you will hear from someone the same business day if its during business hours. You will get a wholesale account that will keep track of every purchase, making your bookkeeping as easy as can be.
If you just want to get your order and get it the next day, no problem. If you've got questions, if you want ideas on what we think will work for your particular situation, we're there for you every step of the way.  Whether you want to buy wholesale Kava in small quantities or buy it by the metric ton, we are ready to make your dreams of success a reality.
Mahalo & Aloha,
Bryan / 716-803-6428
KV Naturals, Inc.
d.b.a. KavaDotCom & Kona Kava Farm