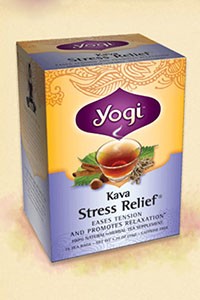 If you are feeling levels of stress, pain, or anxiety after a long day, Yogi Kava Tea could be a great option; Kava Tea may help support the mind and body after a hectic day.
Kava is a plant from the pepper family and has been used by the people of the South Pacific Islands since ancient times. In the South Pacific Islands, Kava is used for celebrations related to weddings, holidays, festivals, ancestral ceremonies, and so on. The whole Kava plant isn't used; the roots and/or underground stems are used for drinks, extracts, and capsules. A less common form of Kava is Kava Tea.
The active ingredients in Kava; kavalactones, are destroyed at 140 degrees Fahrenheit. Therefore, a cold tea or a warm tea (heated to 120 degrees) could be a good option. In order to prevent your Kava Tea from overheating, try warming the water in a slow cooker to monitor the temperature of the water. Or simply, try refrigerating your Kava Tea for a cool refreshing Tea.
TIP: adding lecithin to moderately hot water will add a smoother texture to your tea, and also emulsifies and activates the kavalactones in the Kava.
Kava may be beneficial in many different aspects of relaxation. For one, Kava tea may be useful for helping support calming individuals who struggle with high levels of stress. When drinking Kava Tea, it may help support a feeling of improved mood, muscle relaxation, and stress relief within 20 minutes. It may help support calming the mind, body, and soul at crucial moments throughout the day without impairing vital mental functioning.
Unique to Kava Tea, compared to other forms of Kava, is the variation of taste and flavor. When preparing it, other flavors can be incorporated into the drink such as cinnamon, ginger root, hazelnut flavor, licorice flavor, and so on. Many people do not enjoy the taste of Kava, which makes Kava Tea more appealing to some. With the combination of invigorating flavors, and the relaxing sensation that may be experienced, Kava Tea may be irresistible to many. Drink Kava Tea in 8oz servings. On especially stressful days, never exceed the recommended dosages as excessive use may impair your ability to operate a vehicle or heavy equipment.
We offer Yogi Kava Tea as that has been the most effective brand we've tried.
Warning: Ask a healthcare professional before use if you have or have had liver problems, frequently use alcoholic beverages, or are taking any medication. Stop use and see a doctor if you develop symptoms that may signal liver problems (e.g., unexplained fatigue, abdominal pain, loss of appetite, fever, vomiting, dark urine, pale stools, yellow eyes or skin). Not for use by persons under 18 years of age, or by pregnant or breastfeeding women. Not for use with alcoholic beverages. Excessive use, or use with products that cause drowsiness, may impair your ability to operate a vehicle or heavy equipment.
Does Not Contain: Caffeine.
* These statements have not been evaluated by the Food and Drug Administration. These products are not intended to diagnose, prevent, or cure any disease.