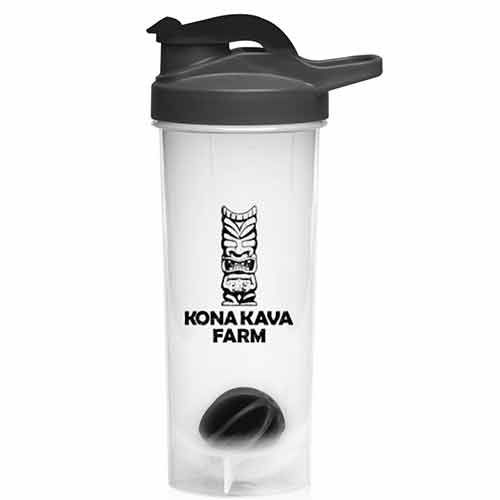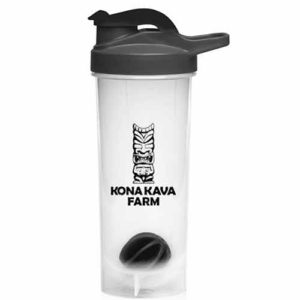 We're always looking for new and interesting ways to enjoy our Kava. Thanks to Kona Kava Farm, we've got another interesting way to enjoy this amazing dietary supplement; the original collectible Kava Blender Bottle from Kona Kava Farm. Take your Kava enjoyment to the next level with these stylish sport bottles for all things Kava. If you don't want to deal with the mess of a blender, then these bottles are for you.
To us, it's the perfect no-mess way to enjoy your Kava. Whether it's Kava root, Instant Kava, or a drink with some tincture added to it, these original Kava Blender Bottles can maximize your Kava experience. With just a few vigorous shakes for just a minute or two, you've got extracted Kava simply and easily. For instant Kava mix supplements, we feel this is the best way to enjoy your Kava, but it will also work well for the root.
The BPA-free blender ball works vastly better than the typical wire blender ball that many blender cups have. Kava root is a tough customer, and this blender bottle is certainly up to the task. Speaking of, the bottle is quality through and through. The entire bottle is BPA-free, and it's one tough bottle. The top seals perfectly, yet screws off easily when needed. It can stand up to repeated washings, and although it's not happy in a dishwasher, it's wide enough to make hand-cleaning a breeze. The spout as well snaps on tightly, but isn't too difficult to open and close. And, the handle on the side also makes it easy to clip onto your backpack or other gear. Lastly, it fits into just about any standard cup holder in your car or elsewhere. Awesome, huh?
One question we've gotten with this product is whether or not the Kava powder needs to be removed from the blender bottle after shaking. The pulp certainly is not harmful or dangerous to ingest after extracting it. In fact, it might actually have some health benefits, especially since it's a fibrous root.* But, to keep things simple, pour your new extract through a muslin bag (See our Kava Infusers), cheesecloth, a clean t-shirt, or whatever you have lying around that you want to use as a filter. Experiment. Play. This is all part of the joy of discovering Kava Kava and the many ways to enjoy it!
There are a few added benefits of using the Kava Blender Bottle as well:
Larger batches – this bottle is a generous 24 ounces. Since there are about 8 ounces to a cup, and a single serving of Kava is anywhere between 1/2 cup to 1 cup, that means you can keep 3-6 servings of Kava in this sports bottle for up to a week in the fridge! Or, for experienced users like the staff here at Kava.com, this is the perfect cup for an evening of socializing and Kava drinking.
Very shareable – since you can put a larger than usual amount in this bottle, you've got more Kava to share! What's the use of Kava if it's not shared is what we always say. The drinking spout is large enough to pour into another container, but the top easily screws off to pour a larger amount.
Less mess – since you don't have to drag out your heavy blender, since everything happens in the bottle, if you have an instant Kava mix, there's no cleanup whatsoever! If you extract your Kava root in the bottle, and choose to pour it through a muslin bag, it's just one extra item that needs to be cleaned, which is quick and easy.
Look stylish – who doesn't want to show off their Kona Kava Farm Blender Bottle? Kava isn't nearly as mainstream as we wish yet, so it's sure to spark conversation wherever you go.
Be sociable – with so much extra Kava in your pocket, why not share some? This sturdy and stylish bottles makes it easy to offer friends a quick gulp or two of this amazingly effective dietary supplement.
We're always looking for comments on the Blender Bottle, and if we get enough requests for colors, we have a wide range of colors that we can choose, including earthy color combinations as well. We sold out of our first batch nearly as quickly as they came in, and along with the Kona Kava Farm Kava Tins, these are skyrocketing to the top of our sales charts thanks to you!
Let me know, and thanks again for all the great comments, questions, and thoughts!
Aloha,
Team Kava
* These statements have not been evaluated by the Food and Drug Administration. Our products are not intended to diagnose, prevent, treat, or cure any disease.